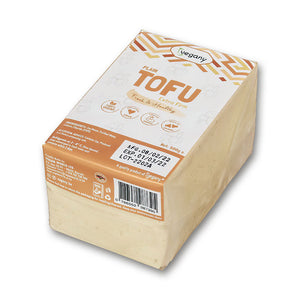 Vegany Extra Firm Tofu 500g
Our healthy and neutral-tasting Vegany Extra Firm, Plain Tofu is high in complete proteins, is a good source of Calcium, and has zero cholesterol! It is Natural and 100% Vegan (plant based), and is hygienically vacuum pack, with a shelf life upto 3weeks under refrigeration (if unopened). You can use this Extra Firm Tofu in Salads, Curries, or even a Barbecue (Choma)! Just marinate it with your favorite sauce for a few hours prior to cooking, frying or even baking it.
Go ahead and try it!
Note: Once opened, please submerge in fresh water, refrigerate, and consume within 2 days.